A brand new, move-in ready home is a great choice for anyone who is interested in not only living in a brand new home without all the repair issues of an older home, but also for anyone who doesn't have time for things like updating their home. Some people love working on their homes, and some just aren't into that sort of thing. If that's you, you're in the right place!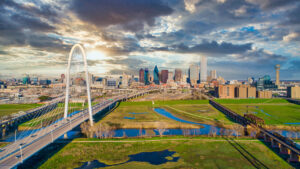 Where Do You Want to Live?
If you're looking for a move-in ready home in the DFW area, the first thing you'll want to decide is where you'd like to live. DFW is a huge area spanning two large cities and multiple suburbs. Do some research to decide which of those areas you'd like to be in or near. Remember to take into account school ratings, proximity to your employer (the commute in DFW can get long), and community reviews on sites like Livability, Niche, and AreaVibes.
What Are Your Needs?
What exactly are you looking for in a move-in ready home? For some people it's a specific number of bedrooms, for some it's the perfect owner's suite, and for others it's community amenities. Decide what it is you absolutely need in a move-in ready home, and look for that. If you're buying a brand new home, you should go for what you really want!
Let's Talk Amenities.
If you're buying a new home, odds are high you'll be looking in master-planned communities. These types of communities can have a lot to offer, so make sure to do your research and pick the one that has the right amenities for you and your family. For instance, if you're a biker or a runner, maybe there's a community that's built around an awesome trail. If you like to drive as little as possible, maybe there's a community with a grocery store and pharmacy within a few blocks.
If you focus on those three things, finding the right community and new home for you won't be quite as daunting a task.
To help in your search, take a look at the communities we build in here at Impression Homes or view a list of our current move-in ready homes.