New Homes in Mansfield, TX
Mansfield is a fast-growing city that is located south of Dallas-Fort Worth. Benefiting from the booming Dallas-Fort Worth economy, Mansfield also offers a variety of restaurants, shopping options, theaters, and a charming downtown. As a result, new homes in Mansfield are becoming an increasingly attractive option for homeowners.
Check Out Our New Home Communities in Mansfield: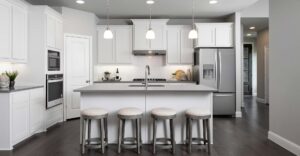 Square Footage: 1,928 – 2,163
Main Street Village is a new townhome neighborhood just half a mile from downtown Mansfield, Texas, south of Dallas/Fort Worth and the Mid-Cities. Homeowners in this neighborhood are in for an exceptional new home living, with a pace of life that truly gives them the best of both worlds.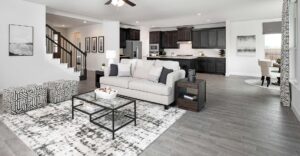 Riverwalk – Sold Out!
Our Riverwalk community is sold out. Please check out our current communities.
Video Courtesy of City of Mansfield
Enjoy That Small-Town Feeling
People love the small town feeling that comes with safety, a thriving parks district and top-notch schools. However, they also don't want to be too far from the conveniences and action offered by larger cities. A growing number of families are choosing Mansfield for this ideal mixture of atmosphere along with prime location. There are numerous Mansfield homes available for sale, including our brand new homes.
Your Own Home – Built to Perfectly Fit Your Needs
Your home is more than walls and a roof. It's a reflection of who you are and your personal style. When you work with a new home builder in Mansfield, you can enjoy the luxury of living in the perfect home while taking in that small town atmosphere. Builders will work closely with you and listen to your goals and desires. They'll design and build a home that's perfectly sized for your family and features all of the amenities that are most important to you.
A New Home in a Historic Town
The town of Mansfield has a rich history, with many older homes to choose from. The problem with an older home is that you end up spending your weekends making costly repairs, replacing flooring, dated colors and making endless improvements to transform it into the home you really want.
The city of Mansfield has a great deal to offer residents, including regular events and activities. With more than 500 acres of developed parkland, you'll have better things to do with your time than paint and renovate. Work with a new home builder, and you won't have to spend another weekend inside. You can build a home that perfectly suits your style and then spend your free time doing something you really love.
With Impression Homes, you can design and build the perfect home for your family. There are many benefits to investing in Mansfield homes, including the active community, great schools and small-town climate. You're still close enough to the big city to enjoy the action when you want it, but you can escape from it to your private retreat when the day is done. Call us today to see what kind of new home you can have built in the popular Mansfield area.