When it comes to buying a new home, a huge factor for homebuyers is whether to tackle the project of a fixer-upper or to buy a move-in ready home.
There are many keys to consider when deciding which route is best for you, and we are here to assist in that tough decision-making process.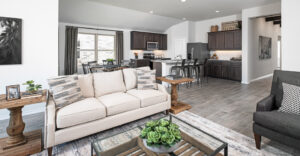 Is it best to splurge the move-in ready home and potentially sacrifice the charm or location of an older home? Do you pick the renovation-ready home and risk losing the brand-new kitchen you have been dreaming of? Impression homes is here to help you make the best choice.
Below are a few guidelines to consider when deciding whether to choose from unique fixer-uppers or newer move-in ready homes located in the DFW Metroplex.
Factors to Consider When Deciding Between Fixer-Uppers or Move-in Ready Homes
There are many keys to consider when deciding to buy a fixer-upper or a move-in ready home. What is your budget? Do you plan on doing the projects yourself or hiring a contractor? What are your must-haves? Do you care more about the location of your home or the quality of your home?
Budget
Budget is usually the number one consideration factor when it comes to what type of home you will buy. Doing your research and making sure you are only looking at homes in your budget can help determine the quality, age, and location of the homes in your price range.
A recent study done by Remodeling.com shows us the comparison of cost versus value when it comes to prices of specific remodeling projects.
This data breaks it down by region, where we can see that Texas home builders spent significantly less than the national average on standard remodeling projects. However, the findings show a slight decline from 57.9% in 2016 to 56.8% in 2017 when it comes to the average payback for the 20 most common professional remodeling undertakings. These findings can help you determine whether the task of buying a fixer-upper will be worth the bang for your buck.
Location
It is all about location when it comes to buying a home, and if you are looking to be near the city, a fixer-upper might be the most viable option. Home builders in Texas have been hard at work springing up new developments throughout the suburbs of the Dallas-Fort Worth metroplex, the booming capital of Austin, Texas, as well as the bustling Houston, Texas.
Move-in ready homes can be found all over these highly esteemed areas of the Lone Star State, but sometimes homebuyers have to risk those new builds to be in their dream location. Our communities have just what you need to fuse together location, quality and affordability.
If location is of upmost importance to you when buying a new home and you want to be in the more eclectic and popular areas of town, a fixer-upper might be the option to consider. The closer you get into the city, the higher the prices of homes increase – this is inevitable almost anywhere you buy and a growing reason why fixer-uppers are more common in the inner areas of active cities.
Go with Your Gut
No matter what you decide, it is always important to remember to go with your gut. Your instinct does not lie to you and if you see a house that is 'totally you,' go for it!
Texas has options for everyone and charming fixer-uppers or move-in ready homes are both amazing options. Do your research, consider the work and unexpected happenings that could pop up. And whatever you do, try to maintain a positive attitude throughout the process.
Buying a home is an equally exciting and challenging process, and we wish you the best in whichever road you take!