Longer days and warming temperatures signal the oh-so-welcome start of spring. But, before you head out to enjoy the sunshine and fresh air, your home could use a little TLC as, even in Texas, winter can take quite a toll on your home.
Where should you start? If you're a new homeowner, that's a great question. Here's a list of the items we recommend completing at the beginning of this new season.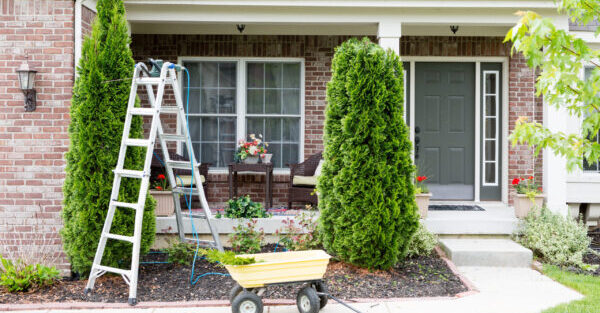 Outside of the Home:
Service your air conditioner – this is especially important in Texas – and should be completed once a year. Contact a professional and get on their schedule. You don't want to get well into the dead heat of summer and find yourself without air conditioning.
Clean windows and screens. Repair or replace screens, if needed.
Inspect caulking around doors and windows. Touch-up or replace, if needed.
Inspect the roof visually from the ground for any loose or missing shingles. If repairs are needed, contact a professional.
Clear debris from gutters and downspouts to prevent any home damage from spring rains. Also, check to ensure downspouts are diverting water away from your house so that water isn't collecting around your foundation.
Tune your lawnmower and sharpen blades to prepare for lawn maintenance season.
Touch-up the overall exterior appearance, focus on the landscape and other lawn maintenance.
Inside of the Home:
Replace your air filters. These should be replaced every three months. To keep it simple, add the task to your calendar at the beginning of each new season.
Test all your smoke alarms and carbon monoxide detectors. Replace batteries, if needed.
Test all GFCIs to ensure proper function.
Spring clean!

Clean and dust everything
Deep clean kitchen appliances – don't forget underneath.
Clean and dust vents, blinds, trim/molding and ceiling fans.
Wash comforters and pillows.
Steam clean carpet and rugs.
Start outside and work your way inside or split the tasks with your partner. No matter which you prefer, take a weekend and tackle this list. Focusing on these home maintenance tasks can not only improve your home's appearance, but can also lengthen the life of your home and prevent major repair bills down the road. It's a win-win-win and, as a homeowner, what could be better?
If you recently purchased a new build home, check to see if any repairs fall under home warranty. If so, contact the homebuilder warranty department to set a time for repairs. Impression Homes' homeowners should submit warranty requests online. To submit a request, click here.