It can be unsettling and uncomfortable leaving one's home and traveling to stay as a guest in another's house. However, with a little creativity, a good host can create the perfect guest room setup that offers a warm and welcoming atmosphere for their travel-weary visitors. Learn some new welcoming guest room ideas below: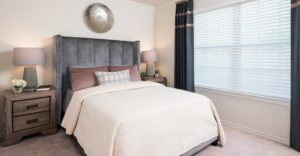 How To Create A Welcoming Guest Bedroom
1. Keep the decorations in your guest room setup simple and tasteful. If you have decorated your guest bedroom with a busy theme, covering every spare inch with your personal taste in fabrics, textures, and knick-knacks, you'll only remind your guest they are in an unfamiliar space. You can still decorate your guest room according to your own style (it IS your house, after all), just keep the self-expression under control!
2. Provide an empty closet or dresser. Very few people like living out of a suitcase, where all their belongings descend into a wrinkly chaos. Most house guests GREATLY appreciate being able to unpack their items into an empty space, so clear out the guest room closet or provide a chest of drawers for use.
3. Include a desk and/or comfy chair in the room. If your guests are staying for a while, they might need a temporary workspace. It can be difficult finding a quiet place where they can focus on important matters when visiting another person's home. Of course, if there isn't room for a desk in the guest bedroom, don't worry. Most people can sit and work on their bed, if necessary.
4. Set up a small coffee and tea station. Find a clear space where you can safely set a coffee maker, and place packets of coffee, creamer, and tea bags alongside. If a guest feels like a late night or early morning cup of tea, it's much more comfortable for them to brew it in their own room than have to knock around in an unfamiliar kitchen.
5. Find out what snacks your guest likes and leave a few by the bed or coffee station. If a guest arrives after you've gone to bed, they might be hungry and it is so much more comfortable for them to find something to eat in their room than trying to quietly find their way around a strange pantry.
6. Note the gym, restaurants, parks, and other attractions in the area and print out a homemade brochure. Include distance, directions, costs, delivery options, and any other important details in the brochure. You can get creative and personalize the brochure to represent your home's style if you'd like. And who doesn't appreciate an opportunity to get creative?!
7. Tape in a prominent spot (like the back of the door or on the top of the dresser) the WIFI access information. It's annoying to have to repeat a lengthy password, and no one likes having to interrupt their host repeatedly to get it. If they have it on hand, they'll be able to access it on all their electronics, without you having to locate the password once!
8. Along with the WIFI password, list your contact numbers. Also, list any emergency numbers, and the number of a recommended physician in case any medical emergencies arise.
9. Speaking of electronics, try to provide a universal charger for cell phones. This can be difficult, but you never know which guests will have thought of everything and which will forget their phone chargers. The guests who do forget their phone's accessories will be amazed when you produce a charger that was just sitting there waiting for them!
10. Provide a basket of toiletries in case any were forgotten. Include mini versions of toothpaste, shampoo, conditioner, soap, mouthwash, face and body lotion, sunscreen, bug spray, contact case, glasses case, eye drops, dental floss, toothbrushes, a hair brush and comb, band aids, razors, makeup remover, cotton balls, q-tips, tampons, pads, and anything else you can think of that a guest might forget. Place all these in a basket and somewhere visible to the guest, like on a chair in their room or on the counter of the guest bathroom, if they're the only ones using the bathroom. And make sure you check once the guest has left to refresh anything that is needed!
11. Let's not forget the basics – keep the bedding clean and fresh! Make sure your sheets are crisp and unstained, with multiple pillows (many people like to sleep with 2 or more pillows) that are comfy and plump. Check and make sure the mattress is comfortable, possibly even sleeping on it a few nights to make sure.
12. Along with clean bedding, provide fresh towels. Fold them neatly and place them where the guest can see them. Make sure the guests know the towels are for their use. Too many times people assume their hanging towels will be used by guests, only to find that they were mistaken as decorative towels. Provide clean hand towels and washcloths as well. After a long trip, nothing is as welcome a sight as a pile of soft, fluffy towels waiting to be put to use after a refreshing shower.
13. Keep the guest room thoroughly cleaned! Nothing says "this is not your home" than finding someone else's mess in the corners of a guest room. You might think that it's common sense to keep a clean guest bedroom, but you'd be surprised how many times hosts will do a quick pick up and miss undesirable things that a more thorough cleaning would reveal.
14. Keep extra blankets on hand. Some people get hot easily, some people get cold easily. Provide extra blankets for those who need to layer up to stay warm. One of the most comforting experiences is a soft blanket to wrap around oneself, so make it convenient for your guests to do so if they wish.
15. Let's get really luxurious with our guest bedroom tips – provide some plush bathrobes! Hang some comfortable bathrobes in the closet for your guests to happily discover. Rarely do travelers have the space to bring along their bathrobes, yet they are useful articles of clothing. By giving your guests their own you allow them to travel to and from the bathroom and out of their rooms in the morning without having to get fully dressed.
Ready To Create Your Own Perfect Guest Room?
We hope these tips will help you create a space that you can be proud to offer your guests, knowing that when they open the door to their temporary living space they can breath a sigh of relief and completely relax.